Skill Success
Add to basket or enquire
Quantity
Overview
This course includes lifetime access so you can complete it at your own speed.
By taking this course today, you will be able to learn a few simple, easy things to get views, subscribers and likes and successfully promote your business in YouTube!
Benefits of taking this course include:
Unlimited and lifetime access to the course
Learn the course at your own pace
Course can be accessed on any platform
24/7 Customer support
Course media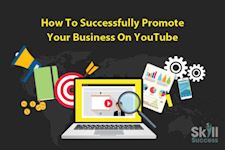 Description
A YouTube channel is essential for all businesses today.
But it's essential that you get views, subscribers and likes.
But why do some people get a million views in a few days, but you get only very few… or even none?
It's actually quite simple – there's a few simple, easy things to do .. but – and let's be honest here – YouTube and Google don't really do a good job in explaining things, do they?
We "take you by the hand" and "behind the scenes" and show you everything, explaining it in simple "no jargon allowed" videos and written support lectures.
This How To Promote Your Business On YouTube course will cover the following topics:
Topic 1: Your Success In Seconds – Do These First!
A Wonderful Secret Way To Get Your Videos Shown Above Those Of Your Competitors
How to Set Your Video Title Correctly – Almost Everyone Gets This Utterly Wrong!
Your Video Description – Amazing Secrets Revealed
Tags & Keywords – The Advanced Insider Secrets For Instant Success
Thumbnail Secrets Revealed – A Highly Effective Way To Get Your Videos Viewed
Message To Subscribers – Have Your Own Free Super Efficient Google Mailing List!
Annotations – Most Channels Ignore These Or Do Them Wrong – Here's The Right Way
Playlists: How To Build The Most Successful Channels On YouTube – In 3 Minutes!
Important: All These Lectures Apply To Your Current YouTube Videos Too!
Topic 2: Free Tools – Make Your YouTube Channel Soar To The Top!
You'll Be Amazed At The Possibilities With The New Improved YouTube Video Editor
Free And Unrestricted Royalty Free Music To Use In Your Video
Free Music Library From YouTube
Free Music Library From YouTube – An Update
Enhancing Your Current Videos For Maximum Viewers, Subscribers… And Earnings!
How To Instantly Spy on Your Competitors – And How To Beat Them!
A New Way To Find Perfect Tags For Your Videos Which Hardly Anyone Knows About!
End Slates Are Crucial To Your Success – Here's How And Why to Use Them (Part 1)
End Slates Are Crucial To Your Success – Here's How And Why to Use Them (Part 2)
Backlinks: 8 Easy And Successful Ways To Add Backlinks From Your YouTube Channel
Topic 3: Your Viewers – Interact, Get Them Watching, Liking And Subscribing
Which Viewers Should You Really Look After – And Why?
Who Are Your Most Important Viewers?
Comments Are Your Secret Route to Success – Here's How To Use Them Fully
How To Instantly Stop Spammers And Idiots!
The Secrets Of Your YouTube Inbox
Topic 4: Advanced Features Made Easy To Get The Maximum Viewers, Subscribers And Earnings
YouTube Features And Facilities Explained – Make The Most Of Them!
Setting Defaults Quickly: Getting The Best Out Of Your YouTube Videos Easily
How To Quickly Get Millions Of Viewers And Subscribers
Advanced Settings Set Up Made Easy
Topic 5: YouTube Analytics – A Real Gold Mine If You Use Them Correctly
An Analytics Introduction – See What You Can Instantly Learn About Your Views
How To Quickly Understand Your Earnings And Your Best Performing Videos
What Precisely Should You Analyse First?
How To Really Understand Your Analytics Reports
Understanding The Demographics Of Your Viewers
See Where You Are Really Successful – And See Where Not!
Statistics In Almost Real Time – New Feature
"Devices" – A Simple Analysis
IMPORTANT: How To Analyse The Most Important YouTube Feature
Topic 6: Understanding The Engagement Reports To Ensure Ongoing Success
Engagement Reports: An Introduction
Understanding Your Subscribers Statistics
Likes And Dislikes – What You Need To Know – This WILL Surprise You!
Examining Your "Favorites" Data
See Why Comments Are Massively Important
Sharing Of Your Videos
Annotations Reports – How To Read Them, How To Improve The Results
Topic 7: Resources
Using YouTube To Connect With Generation C
Do You Need Help To Understand A Copyright Issue With Your Video?
Help! Someone Copied My Video!
Topic 8: FAQ's
What File Formats Does YouTube Accept?
Views "Stuck" at 301?
Who is this course for?
This course is designed for anyone who is interested in learning how to promote their business via YouTube.
Requirements
No prior knowledge is required to take this course.
Reviews
Currently there are no reviews for this course. Be the first to leave a review.