Offering its first estimate of the size of the native advertising market, eMarketer said spending on native digital display ads will make up more than half of all digital display ad spending in the US this year.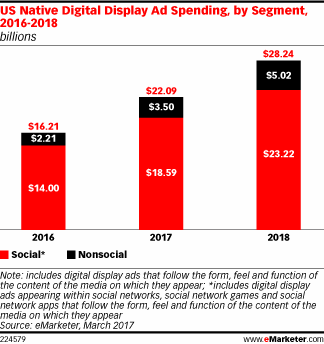 The new forecast estimates that US native digital display ad spend will grow 36.2% this year to reach $22.09 billion. At that level it will make up 52.9% of all display ad spending in the US.
"Growth of native digital display is being driven by publishers' pursuit of higher-value and more mobile-friendly inventory, as well as by advertisers' demands for more engaging, less intrusive ads," said eMarketer principal analyst Lauren Fisher, author of a new report that highlights the forecasts.
Subscribers to eMarketer PRO can access the report here. For highlights of the report, tune into the new episode of the "Behind the Numbers" podcast, which features a conversation with Fisher.
The vast majority of US native display ad spending goes to social networks, driven mainly by Facebook. This year, native social network display ad spending will reach $18.59 billion, representing 84.2% of all US native display. But social's share of native is falling.
"We're seeing a huge ramp up in non-social publishers adopting in-feed ads and video," Fisher said. "Coupled with continued advances on the programmatic native front, this will accelerate non-social native display spending."
Since native advertising is largely purchased on social platforms, it's also almost entirely mobile. Native mobile display ad spending will reach $19.50 billion this year, representing 88.3% of all native advertising, and the share is growing. Native mobile will represent 64.5% of all US mobile display ad spending this year.
Nearly all US native display ads are purchased programmatically, thanks to the heavy influence of social ads, the vast majority of which are transacted via APIs. This year, native programmatic will represent 84.0% of all native digital display ad spending, or $18.55 billion. However, excluding social, programmatic accounts for under half of all native non-social display ad spending.
"It's been a slow start to enabling programmatic buying for non-social native display ads, but with the majority of buying platforms quickly moving to accommodate native ads, we see that changing in the next several months," Fisher said.
backpage websites,
backpage,
backpage.com classified advertising,
websites like backpage,
like backpage,
backpage classified advertising,
backpage classified,
backpage classifieds,
backpage sites,
obackpage,
backpage classified ads,
backpage alternatives websites 2020,
back page,
backpage like websites,
ebackpage,
backpage.com classified advertising website,
backpage like,
backpage website similar,backpage pakistan,
sites like backpage,
backpage alternatives 2020,
backpage alternative websites 2020,
websites backpage classified advertising, australian cracker,
backpage alternatives, backpage websites 2020,
backpage alternative websites uk, blackpage, ibackpage, backpage type sites,websites like back page, backpage similar website, something like backpage, backpage alternative,backpage alternatives websites, free classifieds,like back page,backpage clone,backpage clone script,locanto uk,backpage india,backpage 2020,backpag,site like backpage,backpage.com alternative,sites like backpage classified,backpage,isle of man classifieds, craigslist alternative,backpage alternative sites 2020,back page com,post free ads,websites like backpage.com,ebay backpage.